My Blog
Posts for tag: veneers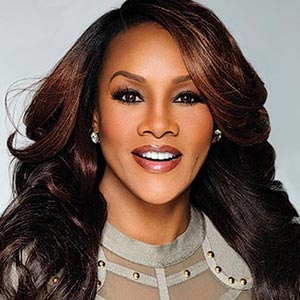 What's an actor's most important feature? According to Vivica A. Fox, whose most recent big-screen role was in Independence Day: Resurgence, it's what you see right up front.
"On screen, your smile and your eyes are the most inviting things that bring the audience in" she said. "Especially if you play the hot chick."
But like lots of people, Vivica reached a point where she felt her smile needed a little help in order to look its best. That's when she turned to a popular cosmetic dental treatment.
"I got veneers years ago," Ms. Fox told Dear Doctor magazine in a recent interview, "just because I had some gapping that probably only I noticed."
What exactly are dental veneers? Essentially, they are thin shells of lustrous porcelain that are permanently attached to the front surfaces of the teeth. Tough, lifelike and stain-resistant, they can cover up a number of defects in your smile — including stains, chips, cracks, and even minor spacing irregularities like the ones Vivica had.
Veneers have become the treatment of choice for Hollywood celebs — and lots of regular folks too — for many reasons. Unlike some treatments that can take many months, it takes just a few appointments to have veneers placed on your teeth. Because they are custom made just for you, they allow you to decide how bright you want your smile to be: anywhere from a natural pearly hue to a brilliant "Hollywood white." Best of all, they are easy to maintain, and can last for many years with only routine care.
To place traditional veneers, it's necessary to prepare the tooth by removing a small amount (a millimeter or two) of its enamel surface. This keeps it from feeling too big — but it also means the treatment can't be reversed, so once you get veneers, you'll always have them. In certain situations, "no-prep" or minimal-prep veneers, which require little or no removal of tooth enamel, may be an option for some people.
Veneers aren't the only way to create a better smile: Teeth whitening, crowns or orthodontic work may also be an alternative. But for many, veneers are the preferred option. What does Vivica think of hers?
"I love my veneers!" she declared, noting that they have held up well for over a decade.
For more information about veneers, please contact us or schedule an appointment for a consultation.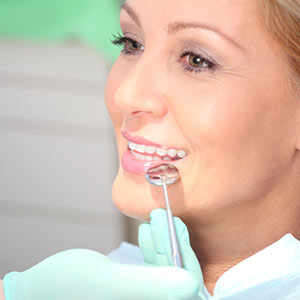 With its life-like color and texture, dental porcelain can restore a smile marred by decayed or damaged teeth. This durable ceramic material not only matches the varieties of individual tooth colors and hues, its translucence mimics the appearance of natural teeth. But perhaps its greatest benefit is its adaptability for use in a number of different applications, particularly veneers and crowns.
Veneers are thin layers of dental porcelain laminated together and permanently bonded to cover the visible outer side of a tooth to improve its appearance. Crowns, on the other hand, are "caps" of dental porcelain designed to completely cover a defective tooth.
Veneers and crowns share a number of similarities. Both can alter the color and shape of teeth, although crowns are used when more extensive tooth structure has been damaged. They're also "irreversible," meaning the tooth must be altered in such a way that it will always require a veneer or crown, though on some occasions a veneer can require no removal of tooth structure and can be reversible.
They do, however, have some differences as to the type of situation they address. Veneers are generally used where the affected teeth have a poor appearance (chipped, malformed or stained, for example) but are still structurally healthy. And although they do generally require some removal of tooth enamel to accommodate them (to minimize a "bulky" appearance), the reduction is much less than for a crown.
Crowns, on the other hand, restore teeth that have lost significant structure from disease, injury, stress-related grinding habits or the wearing effects of aging. Since they must contain enough mass to stand up to the normal biting forces a tooth must endure, a significant amount of the original tooth structure must be removed to accommodate them.
Which application we use will depend upon a thorough examination of your teeth. Once we've determined their condition and what you need, we can then recommend the best application for your situation. But regardless of whether we install a veneer or crown, using dental porcelain can help achieve an end result that's truly life-changing — a new, younger-looking smile.
If you would like more information on dental porcelain restorations, please contact us or schedule an appointment for a consultation. You can also learn more about this topic by reading the Dear Doctor magazine article "Porcelain Crowns & Veneers."
By Luker Dental Care
August 16, 2017
These simple tooth-colored restorations could make all the difference for your smile.
If you find yourself becoming jealous of other people's smiles then you may wish that you had a smile that was straighter, whiter or just more attractive in general. You know that simple cosmetic options like dental bonding or teeth whitening just won't cut it, but our Springfield, IL, cosmetic dentist, Dr. John Luker, is here to tell you just how dental veneers could possibly be the restoration you've been looking for.
What are dental veneers?
These high-quality porcelain shells are custom-made to cover over a tooth and are bonded to the front surface of one or more teeth to transform your smile and alter its shape, size, length or color. Veneers may be a great option for you if you are dealing with:
Cracked, chipped or broken teeth
Discolorations or severe stains
Gaps between teeth
Minor misalignments and crookedness
Malformed, misshapen or worn down teeth
There are so many different ways that getting dental veneers in Springfield can truly makeover your smile, from making your smile significantly whiter to finally getting you the straight smile you want.
What are the benefits of dental veneers?
If you are someone who wants to give your smile a cosmetic boost without having to go through invasive dentistry then veneers may be the best option. Consider dental crowns, for example. In order to get a crown, your natural tooth has to be reshaped in order to accommodate the restoration.
By getting veneers instead, most of your natural tooth structure remains intact. While our dentist will need to shave down a little bit of enamel from the front of your teeth before you can get veneers, this tooth modification is very minimal and can be a great alternative to getting crowns.
Veneers are also custom-made to fit your smile so you know that you'll get a beautiful, natural-looking restoration. Porcelain veneers even offer the same light reflection and translucency that natural tooth enamel does, so no one will be able to tell that you have veneers. All they will notice is your beautiful smile.
It's never too late to get the smile you want. Turn to Luker Dental Care in Springfield, IL, to schedule your consultation. Let us show you what porcelain veneers can do for your smile.